The Behemoth Project is one of three separate projects in the Officer Basin with unexplained buried magnetic ring features.
Meteorite impact structure expert Andrew Glikson proposed that the magnetic rings and other characteristics are indicative of a potential meteorite impact structure. Other scientists suggest that the magnetic rings represent an igneous ring complex.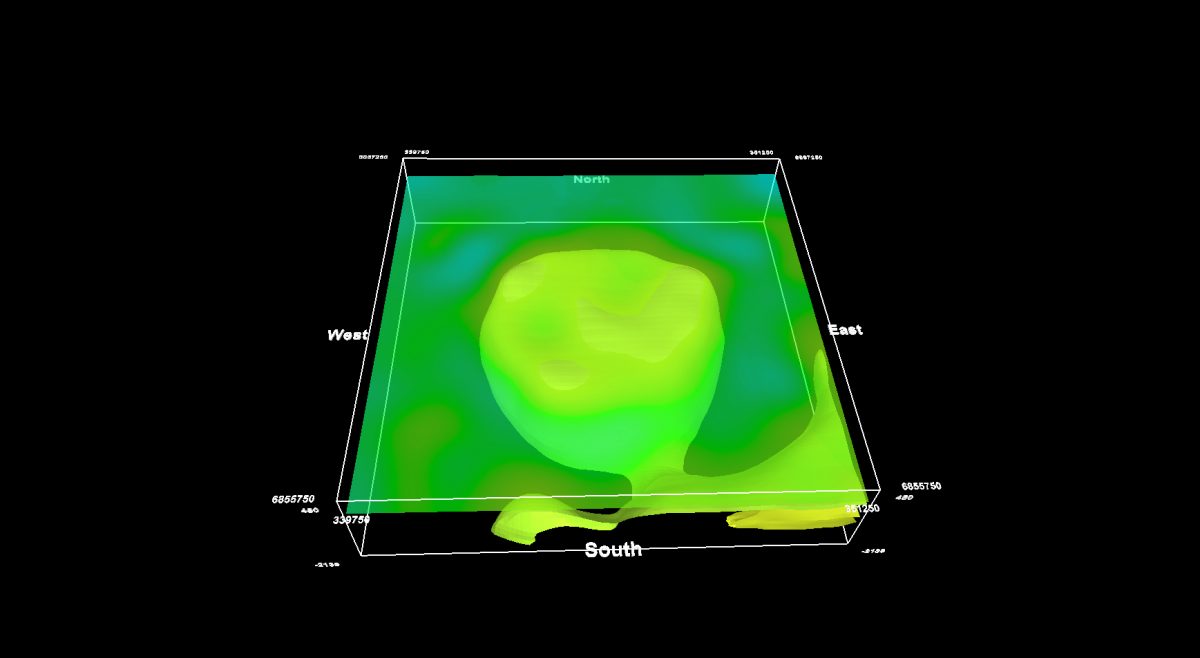 Recent Work
100% owned Maria Resources Pty Ltd conducted a ground based gravity survey over the large unexplained multi-ringed magnetic rings feature at Behemoth. Gravity survey results exceeded expectations by defining a previously unidentified, very large dense body of material buried within the approx. 15 km diameter ring structure.
Following the positive outcome of the gravity work, the Company proceeded to conduct an Induced Polarisation (IP) survey over sections of the gravity anomaly to detect potential zones of disseminated sulphides (as potential carriers of nickel – copper – gold). Six IP-resistivity lines were completed as part of the IP survey. The IP survey successfully identified three very large (e.g 2km, 1.4km, 3km) anomalous zones of chargeable material potentially reflecting zones of sulphides within the Behemoth Project ring feature.
The Company has lodged a further 400 km2 of ground around the existing Behemoth project as a result of the positive outcomes from the recently conducted geophysical surveys.
Upcoming Work
The Company is preparing to drill at the Behemoth Project, a potential meteorite impact structure in the Gibson desert with potential for nickel, copper, gold and rare earths. The Company has completed the following:
Aboriginal Land Access & Mineral Exploration Agreement Signed
Excess Tonnage Removal Received
Programme of Works Application WA Government Approved
Heritage Clearance Approved
Drill Targets Based Upon Recent Behemoth IP Geophysical Surveys
Maria Resources Pty Ltd was awarded $150,000 in drill funding from the WA Government through the Exploration Incentive Scheme (EIS). The government EIS funding will be applied towards drilling the recently announced IP survey anomalies discovered at the Behemoth Project. IP surveys are used to detect sulphides with potential for nickel, copper, gold and/or rare earths. The IP survey was an outstanding success with three large scale anomalous zones discovered with potential to host sulphides that are open and well within modern drilling depths:
Three very large (e.g. 2km, 1.4km, 3km) anomalous IP chargeability zones were discovered.
Anomalous zones also reflect 800m+ width potential (>400m+ each side of the IP line).
Modelled depths of 300-400m to top of anomalism well within modern drilling capabilities.
Chargeable material in anomalous zones modelled up to high levels of 40mV/V.
Anomalous zones modelled to approx. 500m in depth (limit of data) and are open.
Denser parts of the gravity anomaly modelled to continue to at least 1km in depth (and open).
The Exploration Incentive Scheme (EIS) is a highly competitive process determined by independent experts and has resulted in major discoveries. For example, IGO's Fraser Range copper–zinc discovery at their Andromeda project was enabled with the assistance of co-funded drilling. The Nova–Bollinger mine site was also discovered by Sirius Resources using EIS co-funded drilling. Other recipients of funding along with the Behemoth Project in the EIS round included AngloGold Ashanti, BHP Billiton (Nickel West) and Rio Tinto Exploration.
Project Background
Gold Anomaly
There is a significant gold in soil anomaly with peak value of 119ppb that has been identified from historical CRA diamond exploration at the Behemoth project in the Officer Basin.
Gold in soil values of 10.8 ppb, 14.2 ppb, 24.3 ppb, 24.5ppb, 28ppb, 32.4ppb, 51.7ppb and 119ppb were all recorded from within the area of the circular magnetic ring features of the Behemoth project.
Significance
In the mid 1990's, WMC conducted diamond exploration 280km to the SW in the Tropicana area and detected a 10ppb -30ppb gold anomaly in soil. They reported "a number of minor gold anomalies up to 32ppb but none were deemed worthy of follow up". These gold anomalies in soil were finally followed up by AngloAshanti in 2005 and led to the discovery of a new type of gold deposit, the +6,0000,000 ounce Tropicana gold deposit.
In light of the Tropicana Gold Deposit discovery via a 10ppb ‐ 30ppb Au soil anomaly, the 10ppb -119ppb Au in soil samples at Behemoth warrant prioritization of a gold-focused, surface geochemical program utilizing modern technologies and methodologies across the Behemoth Project area.
Behemoth Project Geology
Little is known about the geology of the area. Published geological map sheets of Wanna (SH52-02) and Vernon (SH52-01) contain annotations stating that geology in most of the areas covered are inferred, due to a lack of outcrop, together with a lack of field mapping work.
There has been no exploration drilling except for shallow mineral sands. No gold assays were taken. The stratigraphic BMR Wanna 1 hole was drilled in the eastern section of the extended Behemoth Permit Application area to a total depth of 154m and ended in Paterson Formation.